200 Meters is the primer gossip website in Gilboa. 200 Meters focus' mainly on the fashion and club scene in Shiloh, as well as the antics of celebrities like Katrina Ghent and David Shepherd and members of the Benjamin Royal Family, Prince Jack  in particular. 200 Meters can be viewed at: www.200meters.com.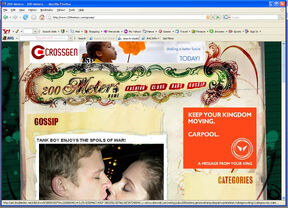 Ad blocker interference detected!
Wikia is a free-to-use site that makes money from advertising. We have a modified experience for viewers using ad blockers

Wikia is not accessible if you've made further modifications. Remove the custom ad blocker rule(s) and the page will load as expected.