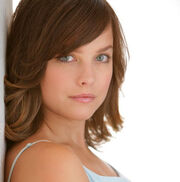 Allison Miller is the actress who plays Michelle Benjamin. Her first role was in Lucy's Piano in 2006. She then appeared in episodes of television series such as General Hospital, CSI: NY, Desperate Housewives and Boston Legal. She is scheduled to appear in two feature films in 2009: Blood: The Last Vampire, a live action adaptation of the anime sharing the same name, and 17 Again, opposite Zach Efron and Matthew Perry.
She played in Terra Nova in 2011 as a reoccurring character, Skye and starred in Private Practice in 2012 as a guest.
Ad blocker interference detected!
Wikia is a free-to-use site that makes money from advertising. We have a modified experience for viewers using ad blockers

Wikia is not accessible if you've made further modifications. Remove the custom ad blocker rule(s) and the page will load as expected.