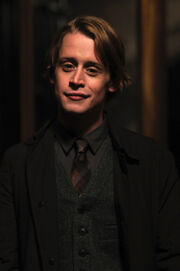 Andrew Cross is the son of William Cross, making him nephew to the King and Queen. Andrew was exiled from the Royal court for an unknown offense. Andrew will do anything for his father or Aunt Rose's approval and/or for his own game and appears to have a small dislike towards King Silas and his children.
Thomasina, the King's aid, also seems to be dismayed at Andrew's return. It could be that the state of her sister has something to do with this.
Andrew Cross is played by Macaulay Culkin.
Ad blocker interference detected!
Wikia is a free-to-use site that makes money from advertising. We have a modified experience for viewers using ad blockers

Wikia is not accessible if you've made further modifications. Remove the custom ad blocker rule(s) and the page will load as expected.