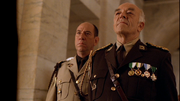 Damien Shaw is the Premier of Gath, making him the country's military and political leader. Premier Shaw met with King Silas Benjamin in Shiloh at Unity Hall for peace talks after Captain Shepherd's gesture. After the peace talks were nearly cancled Silas Benjamin offered Port Prosperity and all lands taken by Gilboa during the Gilboa - Gath War in exchange for peace to which Premier Shaw agreed. Six months later Premier Shaw met again with King Silas at Port Prosperity for the handover ceremony. During the ceremony King Silas was shot and presumably killed, Premier Shaw was escorted out of Port Prosperity and rushed back to Gath.
Inspiration
Edit
Shaw is likely modeled after a leader of the Soviet Union and other militaristic states such as Myanmar and Libya, but seems to resemble a war torn nation that is a military dictatorship, judging from his title and uniform.
Ad blocker interference detected!
Wikia is a free-to-use site that makes money from advertising. We have a modified experience for viewers using ad blockers

Wikia is not accessible if you've made further modifications. Remove the custom ad blocker rule(s) and the page will load as expected.