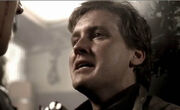 Ethan Shepherd is one of the six Shepherd brothers, he is younger than Eli. Ethan was one of the instigators of the Insurrection at Port Prosperity.
Character History
Edit
Ethan is the brother of David Shepherd. After King Silas announced plans to return Port Prosperity and the Northern Territory to Gath, he along with others began planning a revolt during a protest rally. During the revolt Princess Michelle was taken captive, and Silas had all the rebels killed. Only Ethan was spared, because of the intervention of his brother David. Ethan did not agree with the decision to hold the princess captive, and saves her life by killing a fellow rebel before he is able to shoot her. Following the Insurrection Ethan is taken to the military prison at Gehenna, but is later released into the custody of David Shepherd. He is currently awaiting trial for Treason.
Ad blocker interference detected!
Wikia is a free-to-use site that makes money from advertising. We have a modified experience for viewers using ad blockers

Wikia is not accessible if you've made further modifications. Remove the custom ad blocker rule(s) and the page will load as expected.