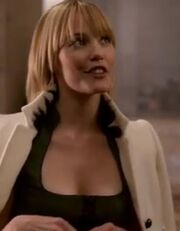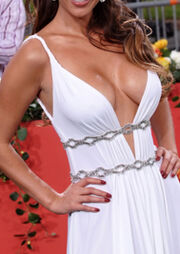 Katrina Ghent is a former centerfold model and Gilboa's Minister of Information.
Character History
Edit
Katrina spent her early adulthood as a performer at Eden's, a strip club in Kardos, where she met her future husband J. Peter Ghent, elderly billionaire businessman. At age 25, after a two-year affair, she and Ghent, then 86, were married. Sixteen months after the wedding, J. Peter Ghent died, leaving Katrina his fortune. The former exotic dancer went on to become a centerfold model and was appointed to the King's ministry as the Minister of Information after purchasing the UNN from CrossGen in a hostile takeover. In recent episodes Katrina has a rivalry with Queen Rose Benjamin, which includes blackmailing her and Prince Jack Benjamin .
Ad blocker interference detected!
Wikia is a free-to-use site that makes money from advertising. We have a modified experience for viewers using ad blockers

Wikia is not accessible if you've made further modifications. Remove the custom ad blocker rule(s) and the page will load as expected.