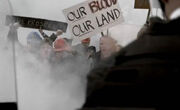 Our Blood, Our Land is the mantra of those who oppose King Silas' move to return Port Prosperity and the Norther Territories to Gath. "Our Blood, Our Land" is believed to have been coined by Reverend Samuels. This manta seems to correlate with the statement released by the rebels who started the Insurrection at Port Prosperity : "We fought for the King and spilled our blood, but if he tries to take our land, we will fight against him."
Ad blocker interference detected!
Wikia is a free-to-use site that makes money from advertising. We have a modified experience for viewers using ad blockers

Wikia is not accessible if you've made further modifications. Remove the custom ad blocker rule(s) and the page will load as expected.