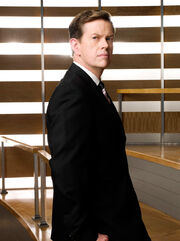 William Cross is the CEO and Chairman of CrossGen Corporation and brother of Queen Rose Benjamin.
William supported the war because his company was greatly invested in suppling the Gilboan Military. Not approving of a proposed Gilboa-Gath Peace Treaty, he pulled all the gold from the Treasury, temporarily crippling the economy.
William has a son, Andrew, who is currently exiled from court under mysterious circumstances.
William's other holdings includePharmCross, and the Lorem United Football Club.